3 Ways of Saying "No" that Shouldn't Need More Explanation
Karen Jane Ng
Posted at July 08, 2020



Think of that day when someone invited you to hang out but since you're not up for it, you threw them elaborate excuses - more like made-up stories - to get yourself away from it. That was one frustrating moment, yes. But we guess you had no choice knowing your simple "no" would never be enough and would only keep the conversation going, which was also the last thing you wanted.

How we wish we can change things and skip out without having to further explain ourselves, not only by saying the one-word-two-letters "no" but also when we say these:

1. "I don't want to."

We're all not fond of the same things so when one says they don't want something or do something, you have to understand it as it is. You're not a fan, you're not interested, or maybe, you just hate it. That's it, in words and in definition. What is there to expound, really?
2. "I can't."

No one should argue with you when you say you can't do this, you can't do that. Because, definitely, you know yourself better than anyone else, meaning, you know your limits, you know your weakness. Only you can tell when you're ready to go for it - at your own pace.
3. "I don't feel like it."

Mood swing is very common. Whether it's triggered by a certain unfortunate event during the day or it just hit you by the time you woke up, it's a defense that should be all-out accepted. Seriously, they wouldn't want the person you becomes when you're not in the mood.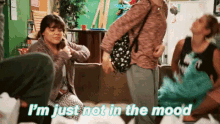 People can make you promise to make it up to them all they want as long as they don't follow our nays with whys. You have to understand that some things are hard to explain because the way they're spelled our are all what they are. Even more so, we don't want to lie.
How do you feel about this?