How We Can Educate Others About Our Female Struggles
Karen Jane Ng
Posted at June 26, 2020



Girls go through a lot, sometimes even worse than acne breakouts, hair problems, wardrobe emergencies, or the monthly period cramps. We also do face gender inequality, body discrimination, slut-shaming, heartbreak, and, often, unfortunately, harassment - situations we shouldn't have been put in in the very first place.

We hate to admit that our only way to get ourselves out these rough spots is left in our hands, on how we educate others about our struggles. There's no crash course for it, but the following might help:

1. Be vocal. Use your platforms, put your thoughts down onto it, and let your people and more people know about it. You can also consider joining existing efforts that have the same advocacy as you. The online world is a powerful place to be heard. Take advantage of it and make your intentions clear.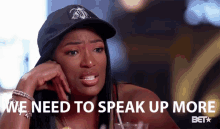 2. Set misconceptions right. There will come a time that you'll get across derogatory comments and/or inaccurate notions about women. Even if it hurts or frustrating to read, do not avoid them, rather, correct them because not doing so will only continue to divert other people from the truth. Break the thread now before it gets any farther.
3. Open up. It's not easy, but if you look closely to the current situation, you'll know by now that no one believes unless one talks. Muster up the courage to share your story and just let it flow accurately and truthfully. Serve as a motivating force for other women to do the same and fight together.
This could be a long "class." There's no guarantee if by "dismissal" other people will meet our expected level of knowledge for them but if it's not, at least we still have tomorrow. Remember what they say: Learning never stops.
How do you feel about this?