5 Ways Animal Crossing Relieves Our Anxiety
Karen Jane Ng
Posted at May 08, 2020


Enough about the bland day-to-day quarantine routine, we've found a way to fruitfully spend our leisure time without having to go out and boost our minds with natural high sans the need to think too much. You can say Animal Crossing practically saved our lives during this anxiety-ridden quarantine - world, rather.

It's our mental health that's also at risk while being locked down, fearing the virus and getting disconnected from the outside happenings and the people in our lives. But the popular social simulation video game keeps us calm from allowing us to be in our own paradise and in other ways such as these:

1. It improves productivity. There's no school yet, and there's a lot of other things that we're not allowed to do during this time. The result: We become immobile and slowly, we lose reasons to. Animal Crossing is an effective prevention for that as it sets an objective for us to create an island, complete tasks, and work hard to earn money and live a life.
2. It doesn't spark competition. That's unless you want to. The game simply wants you start a home in an island from scratch and develop into something bigger as possible. Turning it into rivalry will only happen if you focus on desiring to have the best land with the most money and most resources.
3. It gets you connected with friends. Yep, Animal Crossing allows you to be "friends" with your friends through the game consoles. From then on, you can visit their version of islands, communicate with them, and even bring them gifts. Consider it as your quarantined version of visiting them at home.
4. It keeps your reality intact. It has a slow pace. Before you achieve the island of your dreams, you have to experience what it's really like to be someone who's starting anew. You either go fishing or sell goods to make money that you can use for paying and improving your living space. Work to succeed. Isn't it almost just the same as what we do in real life?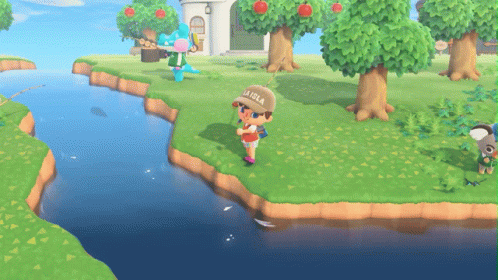 5. It lets you have the life you want. As you play the game, an opportunity to customize the appearance of your avatar can arise. And all throughout, you are in control of how you want your island to look like, how you live and where you travel. Much more, there's no restrictions, no losing, no death, hence, no fear.
Instead of just sitting around and wallowing in our deepest anxiety, we've decided to let Animal Crossing do the honor of helping us survive. There's nothing better to do this quarantine than staying sane with cute animals and an island of your own, yes?

Banner photo from @ARENDELLEAC on Twitter
How do you feel about this?