6 Things We'll Miss Now That the UAAP Season 82 Volleyball Games are Cancelled
Rae Marielle Bayanin
Posted at April 09, 2020


Just when we thought the pandemic could not be harder on us, collegiate sports fans took another knife in the heart after receiving news about the UAAP Board's decision to cancel the remainder of Season 82. That's an entire half a season-less of action from our favorite student-athletes. *Sad reacts only*

As a volleyball fan, I fully understand that the cancellation was done for the best interest of everyone, but one can't help to still be upset, right? We feel what we feel. So as we bid a bittersweet goodbye to S82, here's a list of all the things we were looking forward to, but won't get to see anymore.

1. Senior student-athletes' last playing year
It's always a sight to see senior volleyball players from any of the teams giving their all in every game, up until it's time for them to make their graceful exit. A senior's last season is when his or her heart is in full power. This allows them to maximize their final contributions for the team and for the school that they proudly represent. From the super rookies which brought back UP's winning mentality in season 78 to the countless graduating players, men and women alike, there is no shortage of respect for these seniors who played each year with pride.
2. Returning superstars
We hated to see them gone and we celebrated just as much when they returned. Sadly, we still did not get to see enough of the returning players like Rem Cailing, Jho Maraguinot, Jamie Lavitoria, and Risa Sato. Not to mention the much awaited UST Golden Tigresses' sister tandem with EJ Laure's return. Guess we'll just have to wait another year. I'm not crying, you're crying.
3. Super Rookies stanned early on
Volleyball games never fail to get us on the edge of our seats. Thanks to the rookies who made their mark early on in the first elimination round, we've got more to look forward to in Season 83. Louis Gamban who trended on his debut game against the Ateneo Blue Eagles won our hearts with exceptionally good skills matched with on-court swag and sass. Meanwhile, Faith Nisperos showed the Taft towers that she's a worthy adversary in her first game against the rival school. UST's Imee Hernandez scored a whopping 18 points in her first UAAP game. Are these really rookies?
4. New format? Challenge accepted!
This season came with changes we, volleyball fans, didn't know we needed such as calling on a challenge for questionable calls. The new format where the men's game were put side by side with the women's was also a real treat for the fans as they can stand watch and support one school game after another. I say they keep this format in all succeeding UAAP seasons, who's with me?
5. The action, the drama, and the feels
Just thinking about all the volleyball action makes me appreciate each game even more. No single game is the same. It's a different experience everytime for both the players and the fans. We'll never know what FEU's efforts are in rebuilding their team after losing some of their key players. We would miss seeing AdU's blue-chip recruits in action. Not to mention the adorable post-game interviews and candid moments of the coaches and players caught on camera. *sniffs* I think we all deserve a hug after reading this article.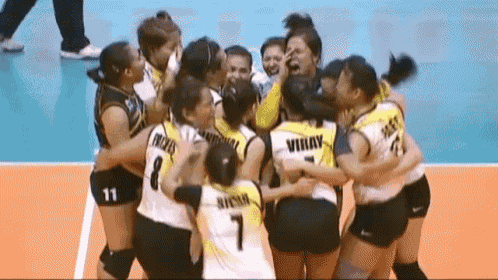 6. MVPs and the Champs
The biggest unanswered question for this season is who will be this season's champs and MVPs. The NU men's volleyball team was hoping to get their three-peat this year while the Lady Eagles were set on defending their title but, I guess we'll never know.

We were barely into the first elimination round and just like that, the season is gone. Perhaps the biggest win we can get from this cancelled season is to hope that no one from in and out the UAAP community gets infected because the way to send the season this way is already heart-breaking enough. Let there be no more casualties from here on.

Banner credits: Leo Lopez (Jho Maraguinot's photo), Eya Laure's Instagram (EJ & Eya's photo)
How do you feel about this?