What to Tell Yourself When You Failed a Graded Recitation
Karen Jane Ng
Posted at February 27, 2020


Things don't always go our way no matter how smart and skilled we are. And every individual who's still in school or had been in school knows exactly what that feels like. In college for instance, not all made it into their dream university, not everyone was able to push through with the fields that they really wanted, not all got to graduate on time, because, truth be told, we can't all get a perfect grades as students.

One factor that usually lead to this are the graded recitations - that most of the time takes place un. We're not gonna lie about it, we hate it, like the way we hate pop quizzes. Both are very much favorite tactics of profs in college, we're telling you. Reading in advance and coming to class prepared aren't always enough based on own experience. There will always come a time that even that one question you want to avoid will be the one to change your fate. From the humiliation to the feeling of failure, it can get pretty devastating. But here's what you can tell yourself if that happens to you:

1. "Okay lang 'yan."

Don't panic. Don't cry. Just relax. Reacting negatively to your failure will do you no good. Set what your classmates think aside, who are most likely too busy passing the recitation themselves. You can feel frustrated and embarrased but not for too long. Be your own cheerleader, because it's really not the end of the world.
2. "Bawi na lang next time."

We hope you don't take this the wrong way, but, let's be real: that is just one failed recitation. You have a long way to go. Instead of dwelling on your emotion, better yet, look forward to your next chances to bounce back. Plus, there's a lot more ways to make up for your grades, you know.
3. "Mag-aaral na ako nang mabuti."

Since we're on the topic of redeeming ourselves, then we can't think of any other way to fulfill that than to study hard, we mean, harder. At least now you know your professor's technique in conducting a recitation and coming up with questions. Consider that your advantage and motivation to outdo your last poor performance.
4. "Things happen for a reason."

It definitely sounds cliché, but it's what you need to hear. As much as we know for sure that people succeed if they do their best, it's also true that people fail regardless of how much effort they put into something. We take it this way: one needs to experience downfall because if life is too perfect now, you'll never be ready to face what comes later.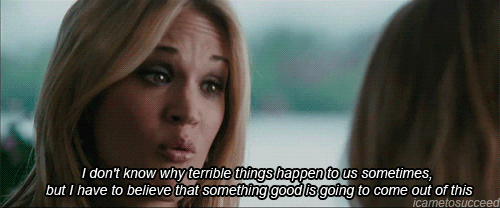 So yes, failing a graded recitation is a natural phenomenon. Allow yourself to experience it, but no matter how many times it happens, we always should be able to overcome it. And it's up to us on how we will pick ourselves up and carry on.
How do you feel about this?